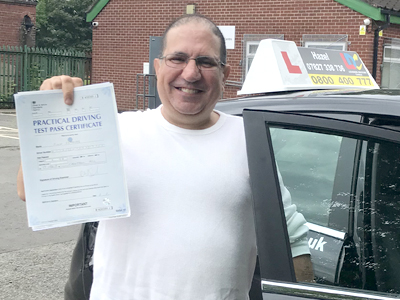 Julio Esteves
Passed 1st time
I have been driving for almost 32 years and since I moved to the UK from Portugal I challenged myself to get a Full UK Driving Licence. I will always be eternally grateful to Hazel for helping me pass my driving test at my first attempt. She immediately identified my bad habits and made me feel at ease and we progressed through the course at a speed appropriate to my ability and confidence. Throughout the process of learning, the LDC Student Hub helped me to pass my Theory Test after I failed it the first time. Hazel was reassuring, calm and kind. I passed my driving test with 2 faults. If you are interested in learning to drive, I highly recommend Hazel and LDC Driving School. Cheers Hazel, Julio
Leah Shaw
Reassuring & enjoyable
I found driving with Hazel very comforting and reassuring. At the end of each lesson I was asked what I felt I still needed to work on and what I thought went well. This enabled the lesson to be tailored to what I felt most comfortable trying next and setting my own personal targets, such as ensuring to check my mirrors prior to indicating, without being told. I previously had driving lessons with another company that I was having difficulty with, and Hazel taught me all new driving methods that I felt more comfortable with and they improved my driving. I found Hazel's instructions and descriptions clear and easy to understand, and I highly enjoyed my lessons.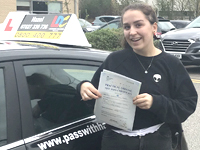 Jessica Bostock
Passed 1st time
Hazel has been fabulous - I was struggling before I came to her with my driving. But since learning with Hazel it has been made easy, simple and fun! I really appreciate everything you have done, thank you! The workbook has been the resource that has helped me the most, especially with regards to manoeuvres. It is really important to prepare for lessons to get the most out of them.